Bone Mineral Density Scans
Accredited Facility and Technologists
At the Port Perry Imaging Clinic, bone density testing is available by appointment on Monday and Wednesdays. As with all our studies, we accept requisitions issued by a licensed physician for any Diagnostic Clinic in Ontario.
Call our front desk at
905-985-9727 to book an appointment.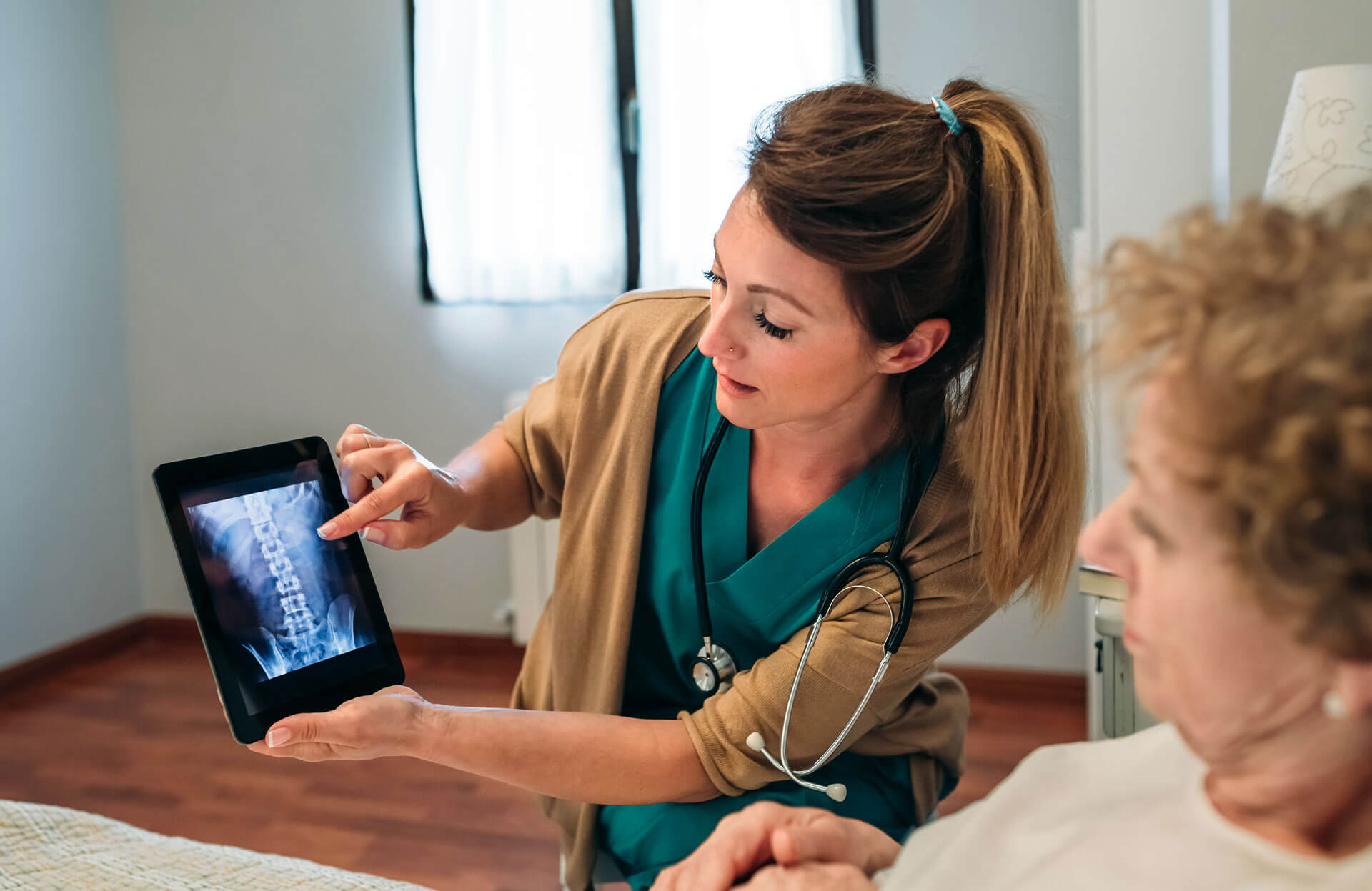 A diagnosis of osteoporosis and associated fracture risk has significant implications for future fragility fractures. This is important because almost 30% of patients who sustain a hip fragility fractures will die of complications from the fracture. Another 40% will spend the rest of their lives in a long-term care or rehab facility. Only 30% will be able to go back home.
Bone mineral density tests are one of the pillars in the diagnosis and management of osteoporosis. Osteoporosis affects more than 2 million Canadians. While 1 in 8 women have a lifetime risk of developing breast cancer, 1 in 3 women have a lifetime risk of developing osteoporosis (1 in 5 for men).
Just as hypertension (high blood pressure) is generally asymptomatic and is the leading cause of congestive heart failure, osteoporosis is also silent and only becomes apparent when a bone is fractured from what would generally be considered a minor fall (fragility fracture). Hence the term applied to osteoporosis is that of a "silent thief". The bones that are commonly involved include the wrist, hip and spine.
Risk factors for osteoporosis include age over 65 for women and men, vertebral compression fracture, fragility fracture after age 40, family history, >3 months use of glucocorticoid drugs and medical conditions that inhibit absorption of nutrients.
Please take calcium tablets after the Bone Mineral Density test.  Try to wear clothing with no buttons, zippers, clasps or hooks, body piercings.

Bone Mineral Densitometry            
20 minutes – do not take calcium pill morning of exam

YOU MAY BE ASKED TO CHANGE INTO A GOWN PROVIDED BY THE CLINIC
Please Arrive 10 minutes Prior To Your Appointment Time.
We Are Committed To Performing Your Examination On Time.
We May Have To Reschedule Your Appointment Should You Arrive Late.

Have Questions?
Read our FAQ

Need assistance?
Contact us